From on air radio guest spots with show hosts with all talk music, events, and humor,  Annemarie Picerno adds  liveliness and fun. She's popped in The Soiree LA for Grammy events, represented Bongo Boy Records for A & R and press, and supports her local music city venues, bands, and artists on air and in  person.  Radio hosts invite Annemarie on air frequently, because besides being professional and a mentor to artists, she is an all around entertainer.
Annemarie is a Grammy member, Americana Music Association member, Indie Collaborative artist and 2018 Josie Music Award winning artist. She has performed in theater, bands in every musical genre, comedy shows, film, radio and television. Her diverse musical sounds mix country, pop, blues, soul, and rock. She has multiple nominations for the 2021 Josie Music Awards, and was awarded BEST MUSIC VIDEO CONCEPT and Grand Jury Prize Gold 2021 BEST MUSIC VIDEO at the 2021 Los Angeles Motion Picture Festival for her music video "Color Blind", 2021 Artist of the Year in Red Carpet Holland Awards, 2019 for The Gran Royale Music Awards and LDM Radio Awards. Select singles also released on Bongo Boy Records and for consideration on the 1st ballot for the 61st, 62nd, 63rd and 64th Grammy© Awards.  Based in Nashville, she is known for her original music and powerful voice, humor, and element of surprise live on stage.
SAMPLE RADIO LINERS - ANNEMARIE PICERNO
ANNEMARIE PICERNO
June 2020 FRANK & DEANE - EXCLUSIVE INTERVIEW WITH ANNEMARIE PICERNO - "For The Kid In All Of Us" 
Annemarie chats with Frank & Deane about why they're compared to Pixar, and what secret projects are being kept top secret from their Nation Of Imagine Headquarters. Nominated for Best Children's Album for the 61st Grammy Awards, Frank & Deane are about to spill the beans. 
www.frankanddeane.com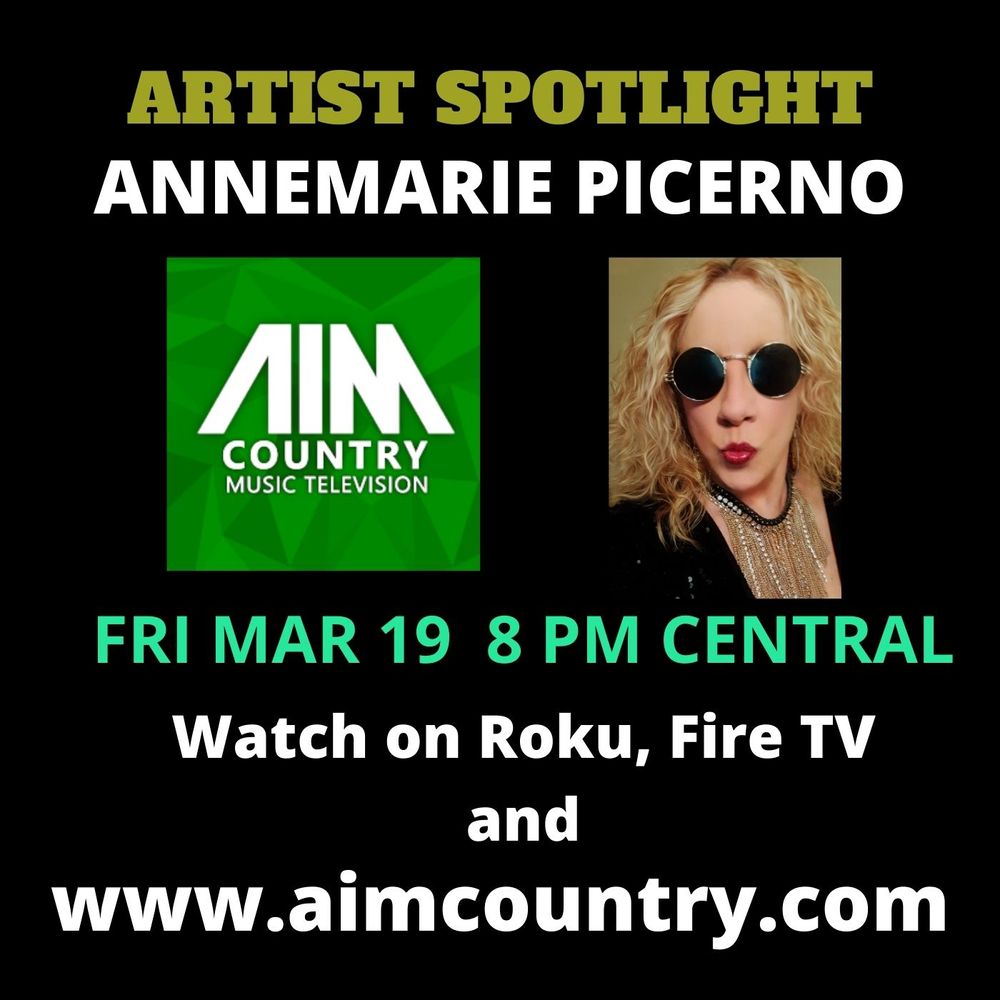 AIM COUNTRY MUSIC TELEVISION ARTIST SPOTLIGHT
ANNEMARIE PICERNO ON AIM COUNTRY MUSIC TELEVISION
A fun interview with Robert D Allsup and my music videos featured on Aim Country Music Television, Roku, Fire Tv and Imbd
WATCH THE LIVE EPISODE OF AIM COUNTRY MUSIC TELEVISION WITH ANNEMARIE PICERNO AND HOST ROBERT D ALLSUP!
INTERVIEW WITH ANNEMARIE PICERNO
THE DAVID BOWERS AWARDS